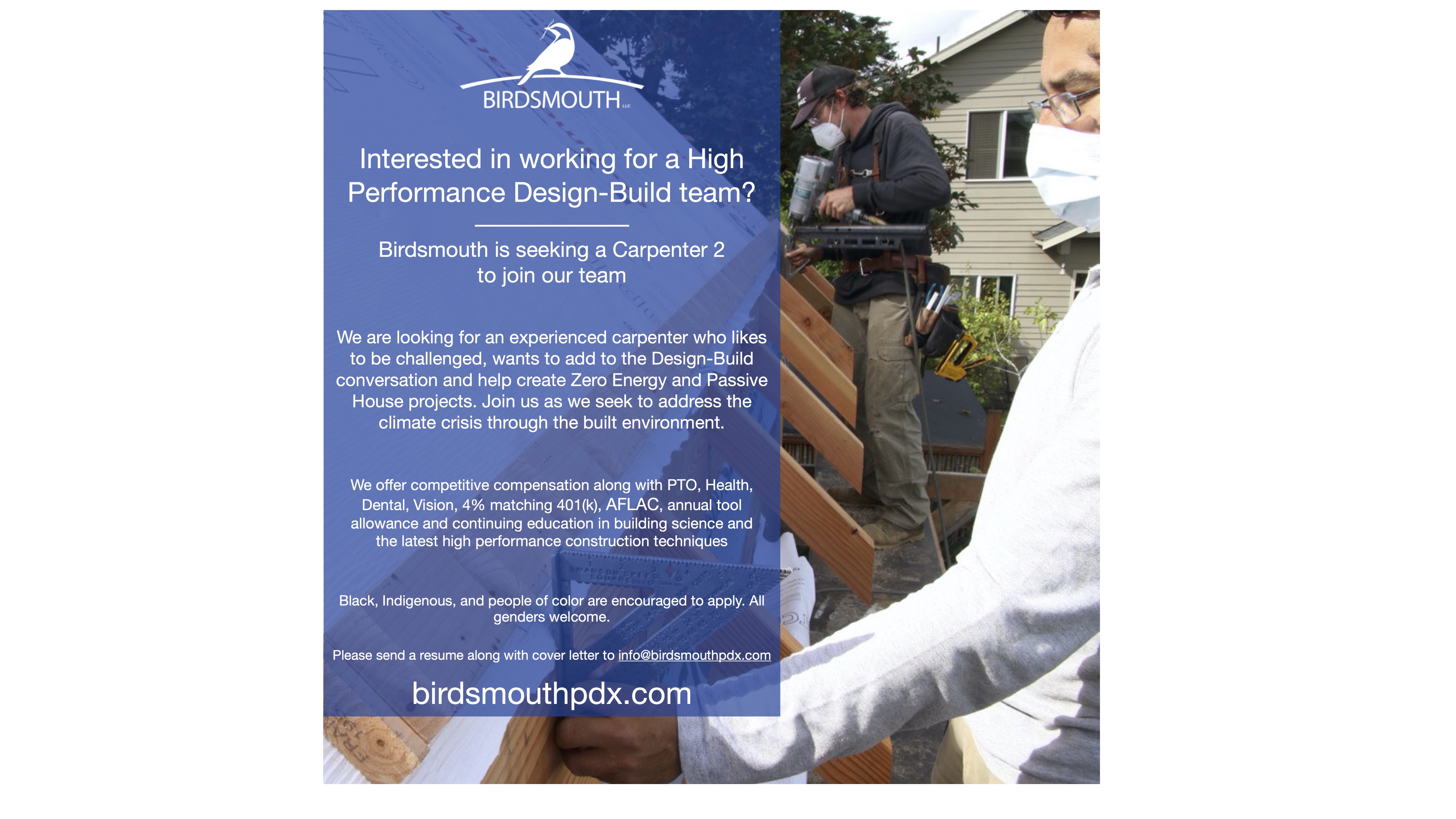 Birdsmouth is Hiring!
July 19, 2021, by Joshua Salinger
Experienced Carpenter Needed!
Birdsmouth is a Design-Build company engaged in residential and small commercial building and design services in Portland Oregon with a focus on high performance design and construction. Our scope of projects includes zero energy custom homes and ADU's, deep energy retrofits, and renovations.
We are looking for an experienced carpenter, someone who is like minded, has great communication skills, and shares a common love of the built environment, design, and enjoys working as a member of a team.
Responsibilities:
-Maintain complete and thorough understanding of all aspects of a project
-Be in open communication with Clients and Site Manger on a regular basis
-Read, understand and execute plans and construction documents
-Must be able to work independently
-Monitor work to ensure high quality, efficiency, and all quality controls
-Order and stage materials
-Be proficient with typical and advanced framing carpentry
-Be proficient with all aspects of finish carpentry
-Have a very high attention to detail and quality of installation
-Maintain a clean and safe workplace
-Participate in staff meetings
-Basic understanding of local building codes
Skills/Experience:
-5 years minimum experience working at a residential building/remodeling firm
-7 years minimum carpentry experience
-Experience with custom residential construction
-Excellent communication skills a priority
-Ability to work collaboratively
-Self-starter with ability to make smart decisions, who knows when to ask questions
-Ability to adapt to changes
-Take pride in doing the best work possible
-Be willing to do some general labor and other misc. duties
-Have a vehicle and tools necessary to perform job duties
-Have an interest in working for a team that is pushing the boundaries of high performance construction and design.
This is a full time position.
Birdsmouth offers competitive compensation, including paid holidays, paid time off policy, sick time, tool allowances, health, dental and vision insurance options, matching 401(k), AFLAC, and other benefits. Birdsmouth is an equal opportunity employer and is committed to providing equal employment opportunities to all applicants for employment regardless of sex, race, color, creed, national origin, religion or to the extent provided by law, age, marital status, pregnancy, ancestry, medical condition, physical handicap, or sexual orientation. All genders are welcome. The Company is dedicated to recruiting, hiring, and promoting qualified applicants. We will strive to treat all employees equitably.
Birdsmouth, LLC is licensed under the Oregon Construction Contractors Board lic. # 184665
Please see examples of our previous work at www.birdsmouthpdx.com
Email your resume with a cover letter and examples of your work to info@birdsmouthpdx.com Please no phone calls.
« Article Listings