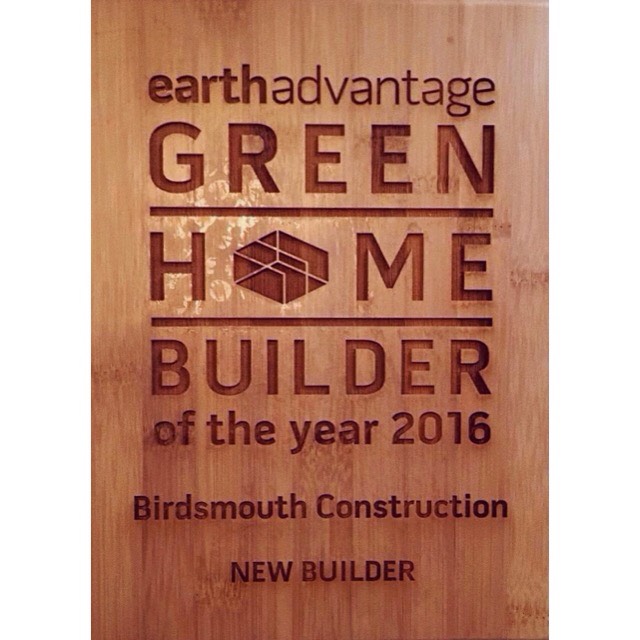 Birdsmouth named 2016 Green Home Builder of the Year by Earth Advantage
January 19, 2017, by Jarad Miles
We are honored and thrilled to have been recognized as Earth Advantage's "Green Builder of the Year" for 2016. At Birdsmouth, we share Earth Advantage's (EA) vision of a better, more sustainable building and energy future in the Northwest. In 2015 alone; EA certified 550 single family homes, 597 multifamily units and 2,425 LEED for Homes units.

To even further lower global emissions in the built environment, EA has set a goal that by 2030 50% of new homes and apartments are built to zero energy performance standards and 50% are built as zero energy ready*. It almost goes without saying, we at Birdsmouth are proud to be one of EA's leading partners in the high performance building movement.

Like many builders, we benefit greatly from EA's building knowledge, efficiency standards and certifications. This past year, we completed two high performance home projects: our EA Net Zero Energy and Passive House (PHIUS) certified Emerson St House as well as our EA Net Zero Ready certified Carlsson House. We are poised to design and build even more high performance homes in the coming years.

In addition to greater energy efficiency and lower energy bills in the home and lowering your greenhouse gas emissions, studies show that buildings with green certifications have a higher resale value than non certified comparable homes. Ask us about the following standards and certifications for your next project:

Earth Advantage New Homes and Earth Advantage Remodel programs.

Passive House

Living Building Challenge

FSC Certification

WaterSense

U.S. D.O.E Challenge Homes

* A zero energy home is defined as one that generates as much energy as it consumes, over the course of a year. A zero energy ready home is built "ready" for the addition of renewable sources but has not yet connected those sources, like solar panels, to the home. Read more here.
Related Projects
27
« Article Listings