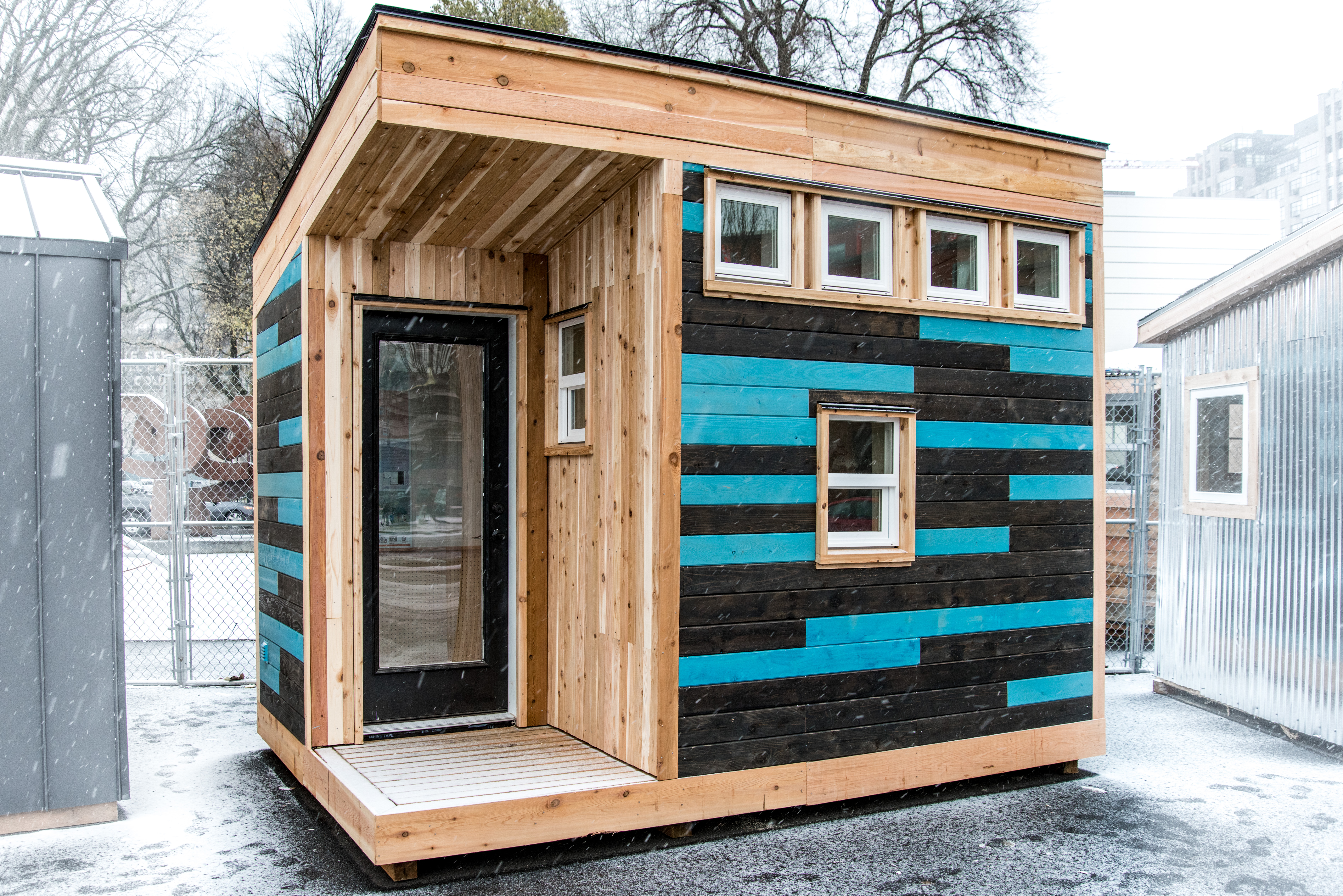 Building to protect our most vulnerable
February 06, 2017, by Jarad Miles
Last December, we were happy to give our time and materials toward impacting the Partners on Dwelling Initiative. For three consecutive weekends, we joined other design firms and Portland State University architecture students in a North Portland warehouse to help construct one of 14 "sleeping pods" for individuals without homes. The pods, much like the tiny houses you've heard of, were each designed by different local firms. While the pods varied greatly in design, their single footprint was no larger than 8-by-12 feet.

As for our pod (and other homes we build), the primary focus is comfort and durability. We believe a home should be comfortable to live in as well as beautiful and strong enough to last many generations. Continuous insulation and air tightness are key to building a high performance home—this type of construction is at the heart of what we do at Birdsmouth. In addition to contributing extra insulation, including rockwool insulation to the exterior walls of our pod; we applied Zip System sheathing to the exterior wall, taping all the seams to create a continuous air barrier. To ensure the highest possible installation standards, we provided detailed drawings and instructions for everyone involved. These simple, yet innovative approaches go a long way toward achieving the comfort—with no drafts or moisture creeping in during the long winter months—and durability that everyone, including our homeless, deserves.
According to a 2015 report by the city an estimated 3,800 individuals are homeless in Multnomah County alone. When you count those who are necessarily "doubled up" in other housing situations, that number rises to an incredible 16,344. The crucial report led then Mayor Charlie Hales to issue a state of emergency on housing. His successor Ted Wheeler pledged in his mayoral campaign that, by 2019, shelter space would be available for everyone who wants it. Since the report's release, it has been reassuring to see the influx of initiatives attempted and proposed to address this crisis.
One of the groups to emerge in this movement is the Village Coalition. The advocacy group includes not only activists, but houseless individuals who are fighting the issue from every angle imaginable. In the spring of 2016, faculty and student fellows from the PSU Department of Architecture's Center for Public Interest Design (CPID) began working with the Village Coalition on the idea of informal "villages" to be established by the homeless themselves. Here's the CPID's description of the project and the occasion that ensued:

"The POD Initiative asks the architecture and design community to apply their skills and experience in shaping the built environment toward housing Portland's most vulnerable population- the homeless. On October 1st, 2016, the CPID and partners hosted an open design charrette attended by nearly 100 designers, social workers, activists, and houseless individuals. Speakers providing context and background included: Mayor Charlie Hales, Vahid Brown (Village Coalition), Todd Ferry (CPID), Mark Lakeman (City Repair + Communitecture), Sergio Palleroni (CPID), and residents of Hazelnut Grove- a village of houseless Portlanders. Following these introductory remarks and group discussions, the designers worked with the diverse group at their tables to come up with preliminary ideas for "pods," categorized as small structures with a footprint of between 6'x8' and 8'x12', and as tall as 10'8". Using Hazelnut Grove as a case study for a potential site (which attendees were invited to visit before the charrette), these pods were designed to be part of a model village in their aggregation. Different groups generated ideas about water collection, adaptability, creative material reuse, modularity, and portability among many other innovations. The inspiring day ended with teams ready to develop their nascent ideas into full designs that can be built." Read more here and watch this video to learn about the POD project.
Homelessness is one of our oldest and most complex social problems. However, the POD Initiative and many other advocacy groups and nonprofits are proving that reliable and cost effective solutions out there. While fourteen pods, even 14,000, may not address the root causes of homelessness, we now know it's possible to design and build hope into our communities. By providing awareness and engagement around this deeply troubling and pernicious issue, we must continue to protect our most vulnerable by reintegrating them into their communities, with dignity.
« Article Listings