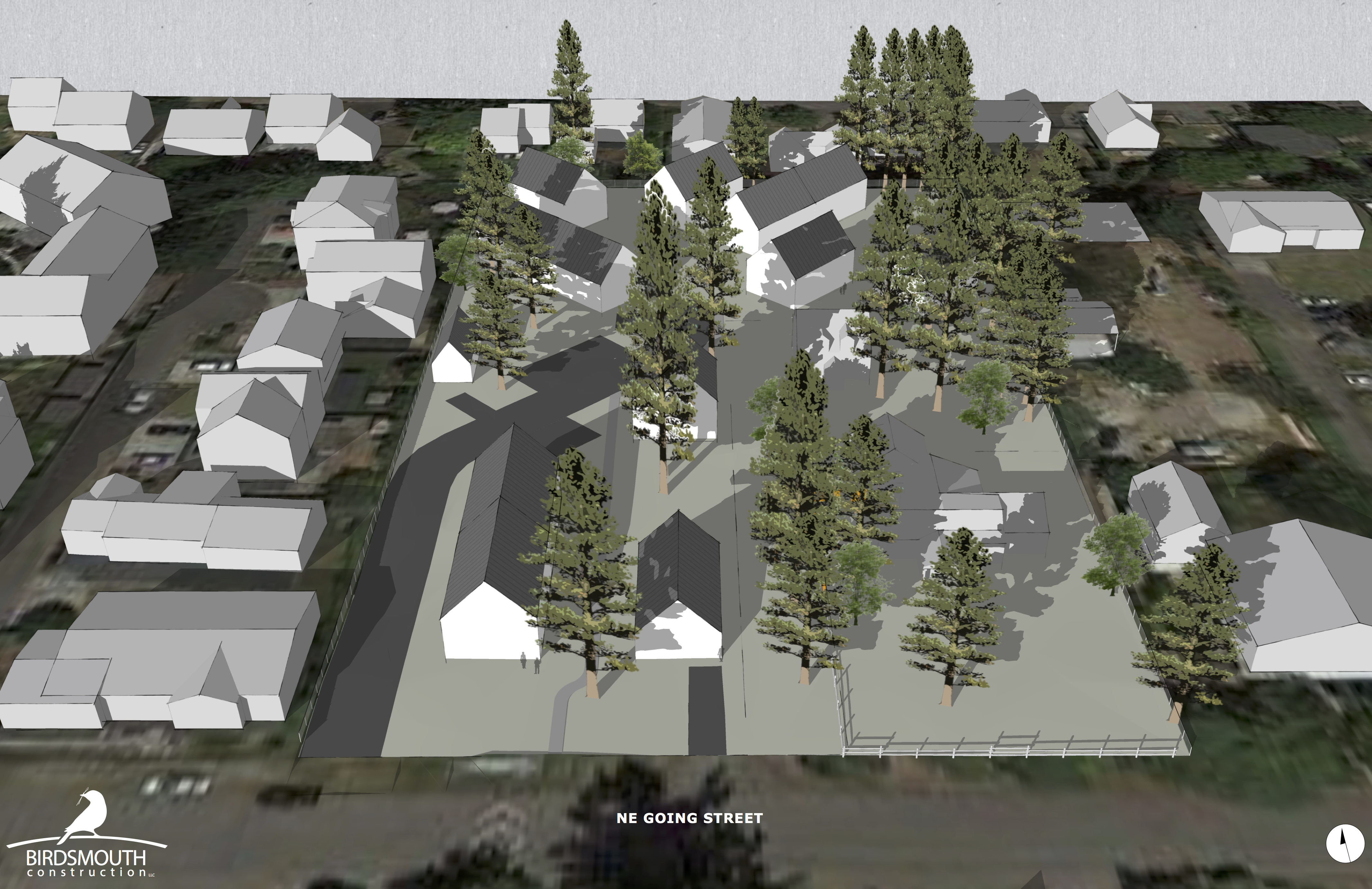 Creating a Zero Energy Community: Going Street Commons
March 30, 2017, by Jarad Miles
We're excited to announce the future development of 12 certified Passive House homes on 1.3 acres in NE Portland's Cully neighborhood!
Going Street Commons
(GSC) is an ambitious project designed to have a very small ecological footprint and to provide diverse community spaces while fostering a more sustainable built environment.
Our goal for the GSC project is to realize a model for zero energy housing that is replicable throughout the Cascadia region and beyond. The planned development will feature a combination of market rate homes and at least one permanently affordable unit in a community land trust. In addition to meeting the Passive House (PHIUS+) standard, we're designing each home to achieve Earth Advantage's highest level of certification,
Net-Zero Energy
Ready (EA-ZER).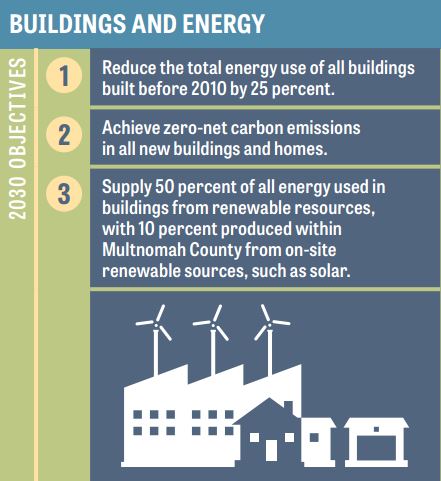 Building to these rigorous performance standards is our most viable way to reach the City of Portland's
2015 Climate Action Plan
goal of reducing local carbon emissions by 80 percent (below 1990 levels) by 2050, with an interim goal of a 40 percent reduction by 2030. To reach these milestones, the plan maps out three key objectives (pictured right) specific to building energy use.
Currently, the building sector accounts for nearly half of all carbon emissions in Multnomah County. We can do much better. Going Street Commons is our way of showing we can reduce carbon emissions from building energy use by drastically improving energy efficiency.
After purchasing the acreage in November of 2016, Oregon LLC Stewart Socially Responsible Investment (SSRI)—Co-Founded by Josh Salinger and Carolyn Fine—hired Birdsmouth Construction to perform the GSC site planning, management, architecture and building. SSRI has also formed crucial partnerships with
Earth Advantage
and
Proud Ground
(a local nonprofit promoting affordable housing). This past January, Josh—also Founder and CEO of Birdsmouth and one of Oregon's first certified Passive House builders—invited members of the Cully Association of Neighbors together for an informational meeting to discuss his goals and intentions for the property.
Throughout GSC's early development and design process, Josh is working closely with our Architect Jonathan Lundstrom (Certified Passive House Consultant) and Designer Ben Valentin (Certified Passive House Builder and Consultant). "One important aspect that makes this project exciting to me," says Ben, "is that we're providing new housing concepts for Portland that will have a positive impact on the health and comfort of their occupants while creating a community that will minimally impact the energy used by our built environment."
As with any large-scale project, the GSC development does offer its difficulties. "One of our biggest challenges is achieving our desire for a diverse social and economic community," says Jonathan Lundstrom. "There are a lot of City fees assigned to new construction in Portland which add to the cost of construction and therefore add to the purchase price of each home."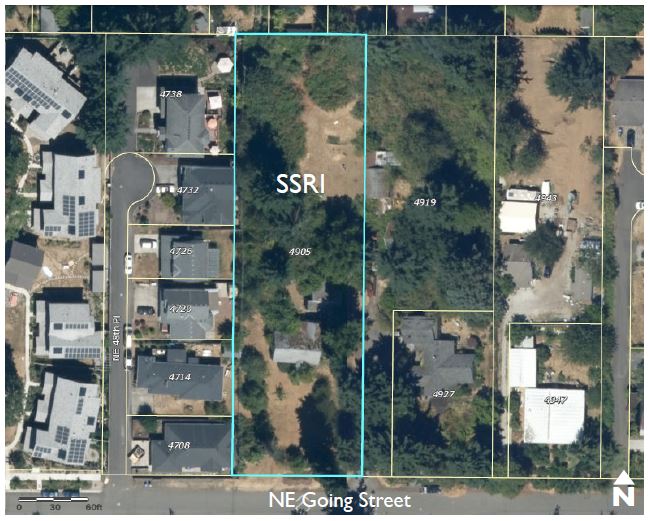 The large lot, near 49th and Going Street, is currently occupied by a vacant home and garage, with large Douglas Fir trees dotting the property. "After performing many site studies," says Ben, "we settled on a concept for a site plan that seems to work best for preserving existing trees while creating attractive community spaces for our buildings."
To ensure a successful and sustainable tree preservation plan we're working with arborists, Honl Tree Care. Others helping with the site development include Landscape Architect, Caitilin Pope Daum; Civil Engineer, AKS Engineering; and Alder Geotechnical Services.
"One of the other main challenges we've faced has been locating and orienting these building concepts on the site plan to best take advantage of the sun's energy, while preserving the trees that will potentially block the sun," says Ben. "Determining the buildings' position, in addition to their window sizes and locations, will have a crucial impact on the performance and experience of these homes."
As the GSC development progresses, we invite you to follow our team as we design and build this community of durable, comfortable, healthy and extremely energy efficient homes. In doing so, we hope to create a model for future development that respects people, communities, and the built and natural environment. We look forward to sharing more about this exciting project as we move forward.
---
For those interested in potentially purchasing a home, please email us at info@goingstreetcommons.com or call (503) 753-9692. We look forward to hearing from you!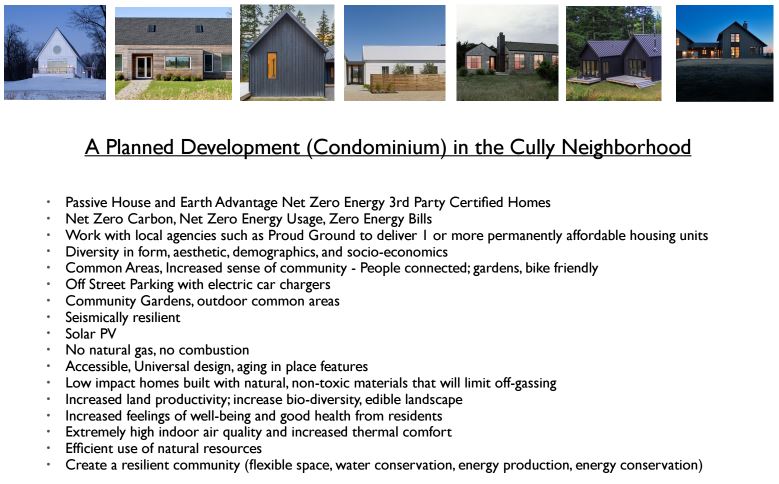 « Article Listings