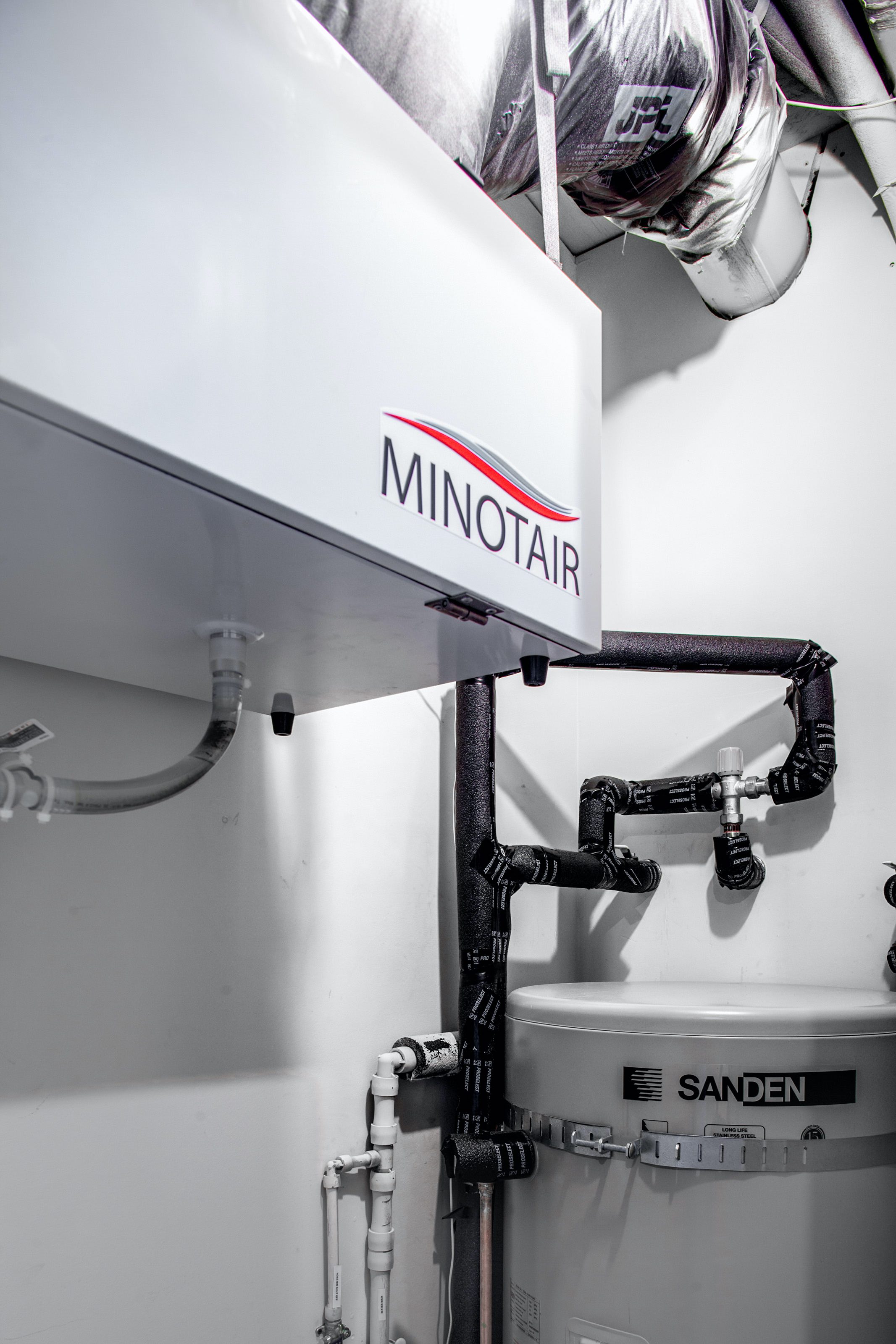 An all-in-one HVAC/D System for Low Load Homes and ADU's
October 05, 2021
At Birdsmouth we have been designing and building homes that require very little energy for heating and cooling for at least the past decade or so. As a part of this we are always on the lookout for creative solutions to provide correctly sized heating and cooling systems, systems for supplying fresh, filtered and tempered ventilation air and also strategies for managing the relative humidity in our homes to keep them from being too dry or too humid. Basically, we are trying to create indoor environments that are comfortable and healthy for our clients while also creating buildings that last for generations.
In addition the the low load homes we build, ADUs are becoming more and more common and Portland allows for multiple ADU's per property (depending on your particular zoning) so long that the ADU is 75% smaller than the living area of the primary residence and no larger than 800sq.ft – whichever is less. This compact size presents its own design challenges when considering not only which systems to use, but also where to locate them in an ADU with two bedrooms, one bath, and everything else taking up the space necessary for comfortable living.
In a small home it can be a challenge to find a place to fit all of the mechanical systems, however we have found a ducted space saving solution with the Minotair PENTACARE-V12. The PENTACARE-V12 offers HEPA filtered (Merv 15) heat-recovery ventilation, relative humidity control, a timed and boosted exhaust function and includes a heat pump for heating and cooling. Hence the acronym 'HVAC/D'— Heating, Cooling, Air Conditioning and Dehumidification— and it is all located in one, small machine that we can tuck into a much smaller space than traditional HVAC/D solutions.
Since the Minotair is small it only provides 3,700 BTU's on the coldest day in Portland which in a well designed and built high performance ADU is typically sufficient. It's also possible to add additional heating to the outgoing supply air, via electric resistance heat or hydronic heat (via a Sanden heat pump hot water heater) to add additional heating during those extra cold days in Portland. The latter hydronic heat post heater can add up to 12K additional BTU's to the heating air which can allow it to be used in many of the super insulated and high performance homes we build. We are currently exploring this option for a 2,200 sqft new residence we are planning to start building summer of 2022.
Mechanical systems with multiple functions that are also highly efficient is exactly what we look for when designing the mechanical systems for super efficient or small dwellings. One of our goals is to provide high levels of occupant comfort, which is in part why we build with Passive House Design and high-performance construction principles. Comfort is dictated by the indoor temperature staying more even and constant than in a conventional home, and the PENTACARE-V12 filters fresh air, heats/cools, and conditions the incoming fresh air to temper it. Additionally, the Minotair is a quiet machine and we design the duct systems and install the unit in such a way to make the interior of the homes we build very quiet— another benefit of the pairing of this system with a high performance envelope.
The PENTACARE-V12 is a great choice for certain low load homes or ADU's in our climate. We've had great reviews from our clients, and we will continue to install them in our compact and zero-energy dwellings. Please see a recent video our founder, Josh Salinger recently did for Fine Homebuilding about the Minotair system here: https://www.finehomebuilding.com/2021/09/02/hvac-system-for-a-high-performance-home
Related Projects
40,42,47,43
« Article Listings