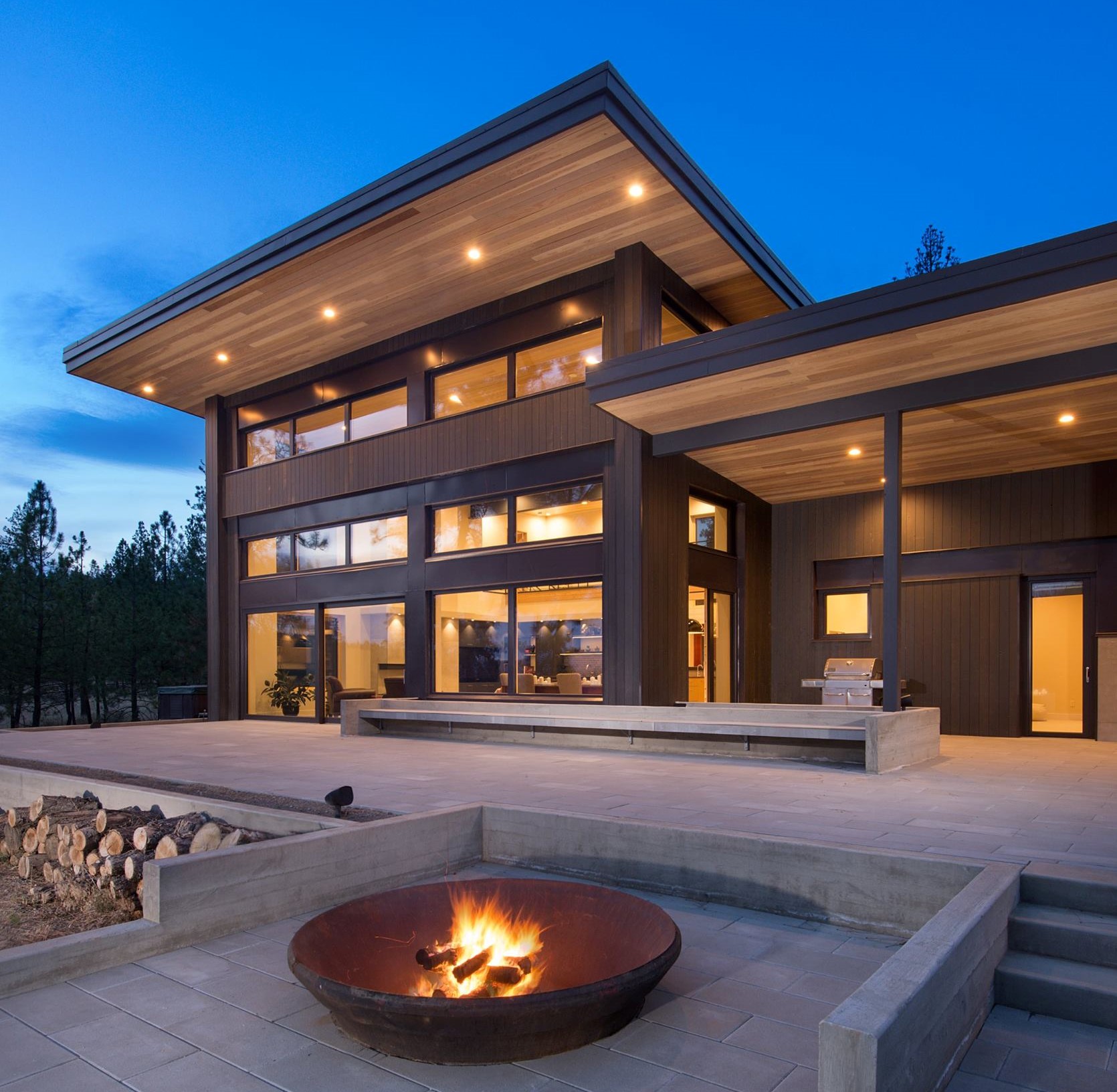 Birdsmouth introduces Glo Windows to Portland market
February 27, 2017, by Jarad Miles
It was mid-summer of 2016 and Missoula, Montana-based firm Glo European Windows had just finished a massive passive house install in Idaho (pictured above). The innovative windowmakers—whose windows and doors are designed to improve building envelope performance while maintaining a clean, modern aesthetic—had their eye on the high performance building market even farther west.

They would look to make inroads with their products beyond Montana, Wyoming and Idaho and through to their farthest Northwest neighbors in Oregon. Unsurprisingly, they found many outstanding design-build firms in Portland, but few with a proven record of, and commitment to, meeting the rigorous standards of high performance. Skylar Swinford, the energy consultant on the Idaho passive house project, suggested they look into us at Birdsmouth.

Looking out from the passive house in Idaho (Oliver Irwin Photography)
In late fall, our CEO and Founder Josh Salinger received a call from Mark Wells, Glo's VP of business development, saying they were looking for a high performance design-build firm that could represent and introduce their product to the Portland market. Of course, we were not the only firm Glo was looking at—Mark interviewed a number of architects and builders in and around Portland before deciding on Birdsmouth. "This is really cool and makes us super proud," said Josh, "considering all of the great architects and builders in town they could have chosen."
This is a great partnership for us and we are thrilled to be featuring Glo's products on three of our upcoming high performance projects, including a future Net Zero Ready (Earth Advantage certified) home, an ADU and a home addition. We look forward to showing them off so people can see them in action. It should also be noted, Glo recently donated one of their beautiful, sliding glass doors to the Two Blocks North project, and for that we are greatly appreciative.
Indeed, it is Glo's passion for innovation—focusing on performance and long term durability without sacrificing style—that really drives and distinguishes their products and service. "They have some of the highest quality European windows and doors we have seen and their performance specifications and styles available are many," says Josh. "Their service has been an order of magnitude better than other European manufacturers we have dealt with—this is no small thing since there are time zones, language barriers, shipping, metric/imperial conversions, detailed drawings, specs and more involved in procuring these products."
I recently had a chance to catch up with Glo's VP of Business Development, Mark Wells, for a brief talk:
BMC: You interviewed a number of architects and builders in the Portland area. What stood out about Birdsmouth?"
Mark: During my first conversation with Josh I recognized that he is extremely well-informed and passionate about high performance. It was clear to me after meeting the rest of the Birdsmouth team that a partnership between Glo and Birdsmouth would be a good fit. Their knowledge and commitment to improving the built environment through sustainable construction techniques has reaffirmed this decision. Their attention to detail and thoughtful collaborative approach makes doing business with Birdsmouth a pleasure.
BMC: In our experience, your level of service and product quality is considerably better than other European manufacturers we have dealt with. What accounts for Glo Windows distinct advantage over competitors in your market?
Mark: That is nice to hear. We pride ourselves in being both enthusiastic and analytical towards our windows and doors and conduct considerable research into each product we choose to bring to the marketplace.
BMC: On your website, one of the things that stuck out was this statement: "You want to leave the next generation with something to be proud of." The value of timelessness seems to be a strong part of your company's culture and work. How does this drive Glo's innovation and result in high quality work?
Mark: We are constantly working on our next best product in a large warehouse I like to call the 'Mad Scientist Laboratory'. Whether it's simple gaskets, hinges, or entire window and door assemblies, we put our products through the ringer before we offer it to the market. Our goal is for our windows to remain a beautiful and functional component of our clients' home for generations. By placing an emphasis on lasting quality and conscious selection we hope to impart our values into each of our projects.

BMC: What is the most rewarding thing about the work you do?
Mark: Connecting with talented teams like Birdsmouth is probably one of the most rewarding things about our work. Being in the high performance building community has allowed us to create relationships with many wonderful people around the world. The chance to collaborate with other passionate and accomplished teams is extremely rewarding in itself, but there is nothing like seeing the finished product come to fruition!
---
See the latest and learn more about Glo European Windows.
Photos courtesy of Glo European Windows and Oliver Irwin Photography.
« Article Listings