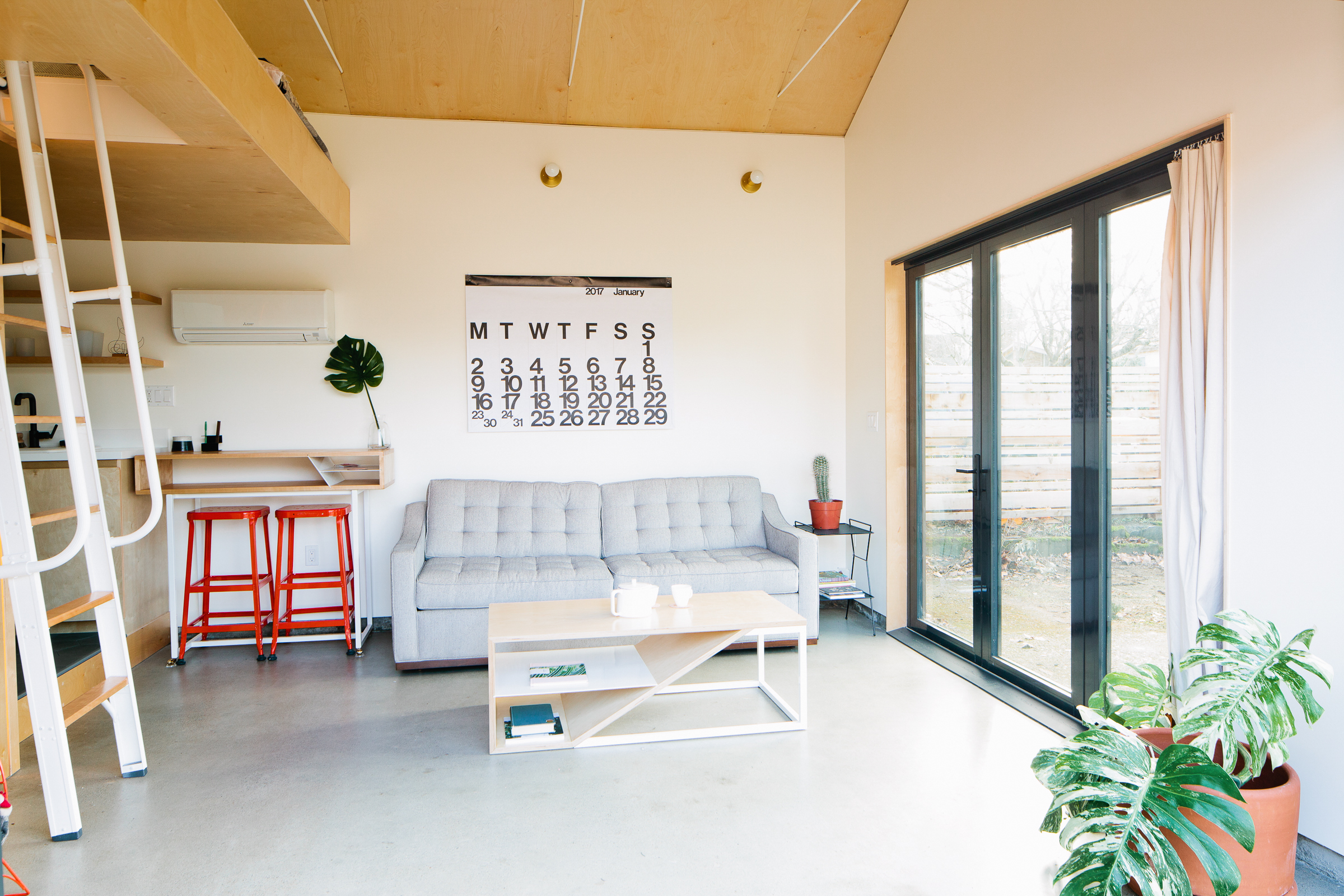 Breathing new light into dark spaces
June 19, 2017, by Jarad Miles
It's never easy to turn an old dark space into one that's cozy, light-filled and vibrant; much less a single-stall garage. As our Northeast Portland clients recently discovered, entertaining their guests from an old garage had its simple charm, but also its limits. The clients, known for opening up their garage doors to neighbors (to talk big ideas at their weekend community coffee bar), wanted a space as much inviting as representative of their particular style.
Led by our Project Manager, Beth Campbell, the Birdsmouth team worked with the clients and an architect to overcome a number of construction challenges. By December of 2016, we converted the couple's attached garage into comfortable living quarters. "The clients," Beth says, "were going for a modern, clean aesthetic—something that would be comfortable and appealing to them and their guests."

The revamped space now includes a new bath, kitchenette, living room and loft. As neighbors approach they will now notice new clear cedar siding on the exterior before entering two new folding glass doors and the aroma of freshly-brewed coffee.
As an high performance firm, we are always looking to repurpose materials whenever possible. Consequently, we were able to save the existing garage foundation, saving the client considerable time and money in the process. Perhaps the greatest benefit of high performance building is considerable energy cost savings. We were able to install a ductless, mini-split heat pump—a system for heating and cooling which requires much less energy than even the most efficient conventional furnaces.

The heat pump is not only an energy saver, but also very quiet; ensuring occupants the utmost comfort. Another benefit of a ductless system is that can be easily integrated into an existing architecture without detracting from the home's aesthetic.

By repurposing their underutilized garage space, we were able to help the clients limit their environmental footprint. "In the end," Beth added, "this project really shows you how much can be done with limited space." Now all that's left is filling it with good neighbors, strong coffee and happy overnight guests.
« Article Listings