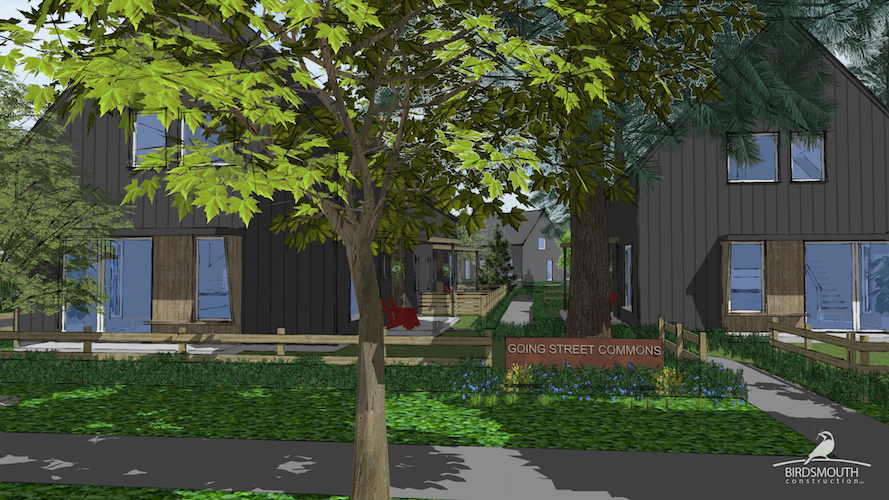 Going Street Commons: A Zero Energy Community
June 04, 2019
There are housing developments going up all over the city and its suburbs; from Wood Village to Milwaukie and all points in between. The majority of these houses are the same as you will find anywhere, nearly identical constructions built on the principle of "lowest bidder for highest profit." We've all seen this kind of thing before.
So, what does it look like when a company specializing in High Performance, Zero Energy homes designs a multi-unit planned development? It looks like the Going Street Commons.
We designed the Going Street Commons community to bring our values around addressing the climate crisis fully into reality. When we know that over 40% of America's energy is being used to power homes and buildings, designing houses that simply meet code is not going to bring about the transformational change we need. We wanted to make a tangible, meaningful difference; so that's what we've done.
Situated in the Cully neighborhood-- an area that is seeing an environmentally-friendly building renaissance as of late-- Going Street Commons is a community of eleven Zero Energy Ready homes. It is the manifestation of our values around efficiency, health, comfort, durability, and simplicity. GSC is an intentional community that will offer its inhabitants a deep sense of connectivity to their neighbors, the larger community, and the natural environment.
At the cutting edge of building science, these homes offer superior indoor air quality, high levels of occupant comfort, durability, resilience and beauty. With this project, we are also furthering our own goal of providing custom designed, Zero Energy homes at cost parity with the more common--and far less efficient--code standard variety. One of our mantras is, "How can we keep this simple?" That question is at the root of keeping costs down, finding creative solutions, and delivering a beautiful design.
The project is located at 4863 Going Street. Construction will be completed by our good friends at Green Hammer.
Our designer, Ben Valentin, lead the charge on this project and for the past two years has been meticulously ensuring that it meets the high level of quality and specificity we are known for.
We are very excited to see the team's hard work come to fruition and we hope you'll join us on this exciting journey. Be sure to check out our future posts where we will examine the design process from initial conception all the way through final construction. You can find additional information by following us on Facebook and Instagram.
Related Projects
40
« Article Listings