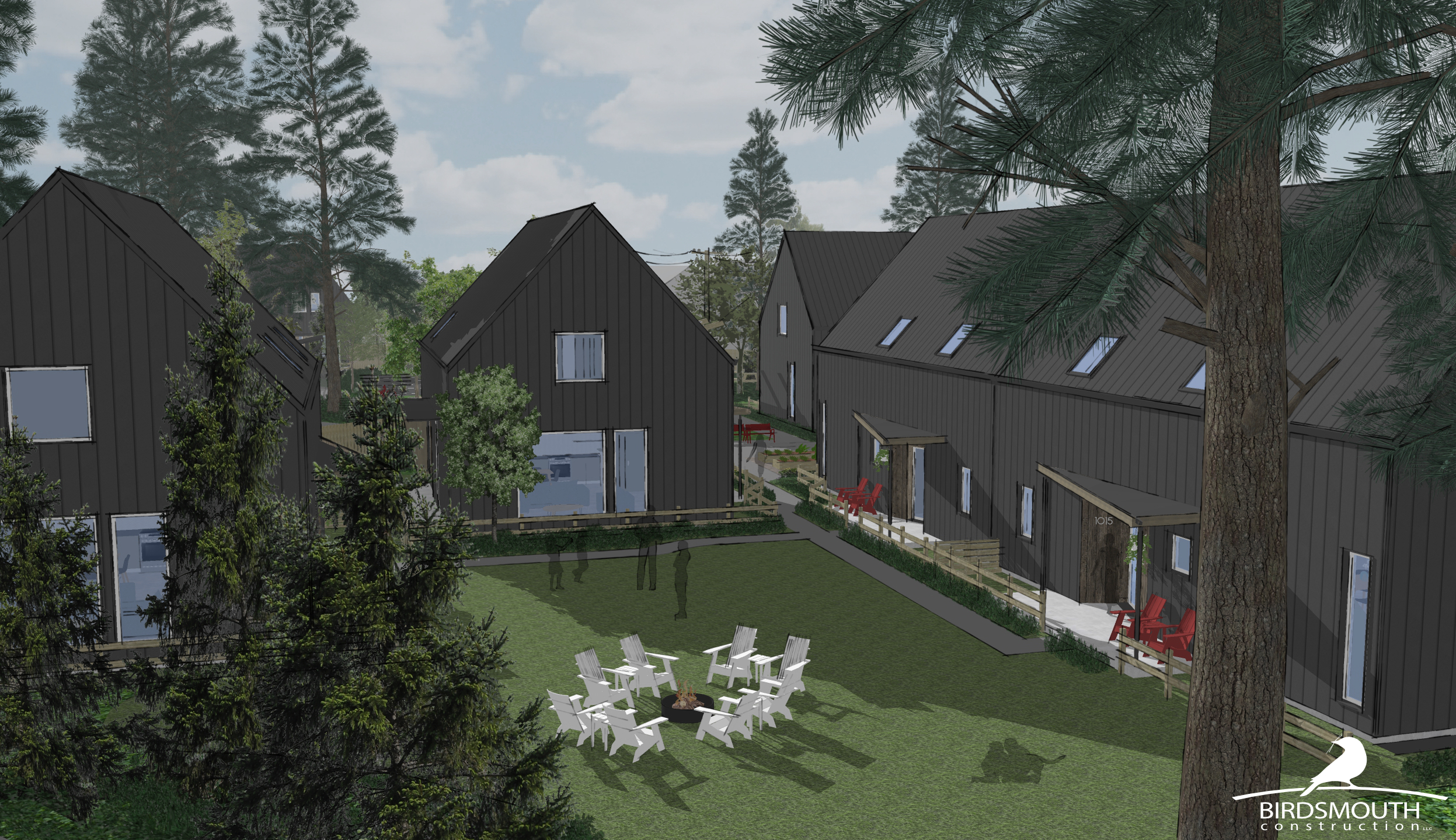 Going Street Commons: Fall 2017 Updates
September 28, 2017
A lot's been happening since our last get together and we continue to get closer to making Going Street Commons a reality. Here's what we've been up to since our August 1st open house and over these last few months:

The design team submitted the first draft of our planned development application (PDA) on August 23rd and we just got our first round of feedback from the City this past week. We worked with our civil engineer, AKS engineering, and our landscape architect, Caitilin Pope Daum, to outline all the building coverage, erosion control plans, life safety, landscape, setbacks, roads, as well as water, sewer and electrical infrastructure required by the City. Completing this land use application is a critical next step in our timeline and the start of a 120-day approval process. Once the land use approval is in our hands we can then submit our building permits to the City.
To fully complete our application, we need to finalize our property line adjustment (PLA) with the neighboring property at 4919 Northeast Going Street. In order to do this, the existing red garage and greenhouse deconstructed and the foundations removed as they are within 10 feet of the future property line. This triggered a number of requirements from the City prior to removal of the buildings: having an arborist-approved tree survey and tree root protection plan, installing construction and tree root fencing per the approved plan, uncovering and decommissioning an old cesspool on the property line, having an erosion control plan approved by the City and installed along the perimeter of the entire future property, notifying the neighborhood about deconstruction, posting the fencing with the required notices, removal and decommissioning of an existing oil tank, materials staging areas defined and approved and geotechnical engineering work done for proper infilling of the old cesspool and foundation areas.
Once all the above requirements are met, they must be inspected and approved by the City. We have passed our tree protection and erosion control inspections, so technically we are now able to start the deconstruction and foundation removal, which will begin this week. Additionally, a fair amount of physical work has also been done to clear overgrown blackberry bushes and various debris from the site.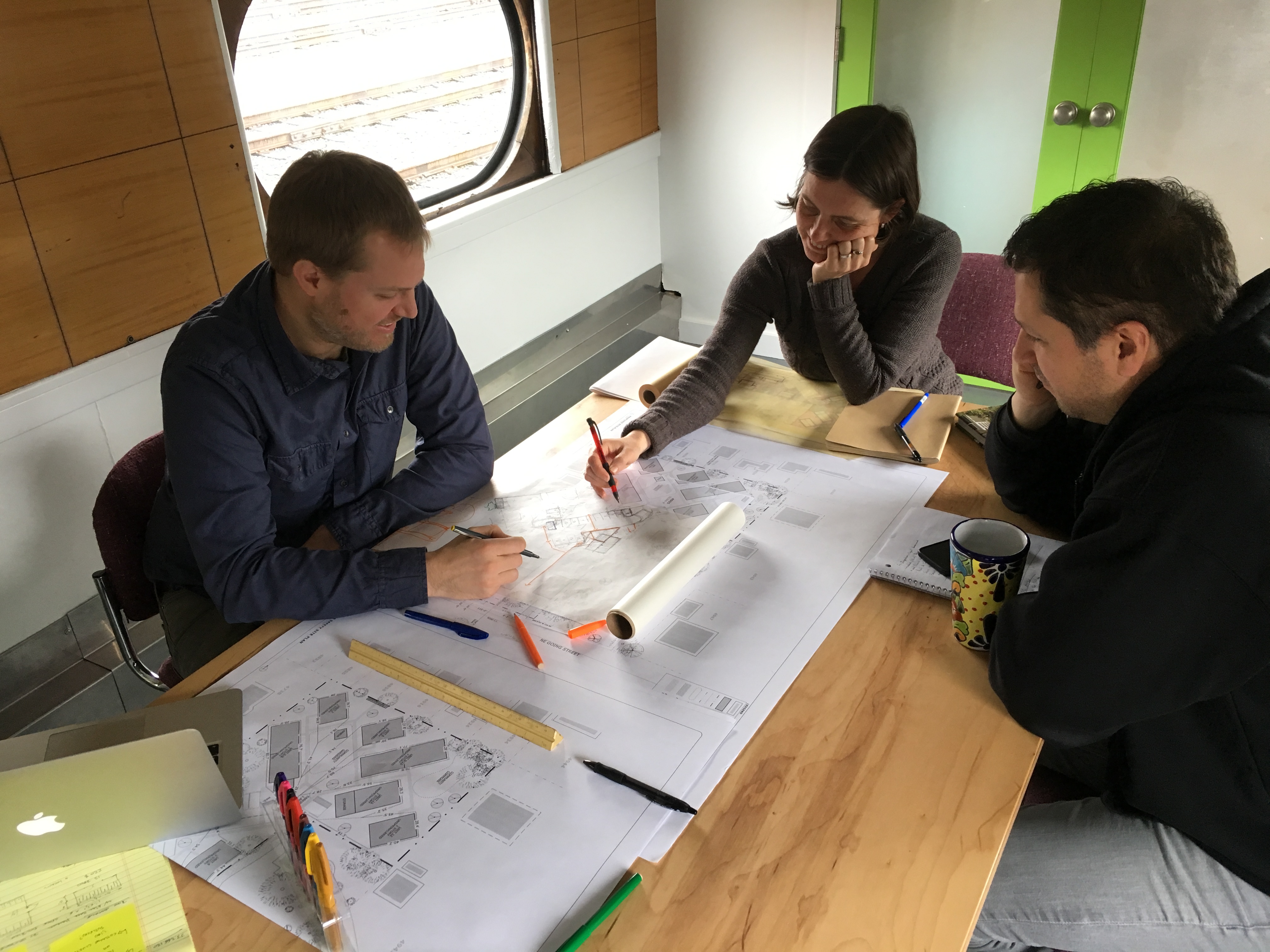 Concurrently with the PDA and PLA, we have been working on the design development stage of the building architecture. Basically, this is the nuts and bolts of fleshing out the schematic design, including the preliminary energy modeling, solar site studies, schematic structural engineering, elevations, sections; all of which required building code review. Construction details such as window install; wall, roof and floor assemblies as well as mechanical, electrical and plumbing are also a necessary part of the schematic design process. Our goal is to have these plans developed to the permit set stage by the time the PDA is approved so we can immediately turn around and submit for building permits in late January. Once the permit set is complete, we can then create construction documents while the buildings go through the approximately three month permitting process. We plan on having the construction documents ready by the time the building permits are issued to enable construction shortly thereafter.

Meanwhile, we've been working on our project pro-forma and fleshing out the costs for all of the fees, charges, site work and building costs. Additionally, we'll be getting bids for the sitework and all of the fees rounded up these next few months. Once we have a design development architecture set we can then start putting real numbers to the costs of the buildings. We will also start addressing materials choices such as siding, flooring, roofing, cabinets, fixtures, options for storage, upgrades and islands for the N units. We hope to address these items as early as November or December. Once we have all of this information in hand we will be much closer to having final pricing available for the units along with some renderings of the individual homes.
We continue to work with our real estate acquisition attorney, CPA, and capital markets broker/banks to detail the funding mechanisms for Phase 2—the building phase happing in June 2019. We will be sure to share this information with you as it becomes available as this is a critical step in the funding of these future homes. We continue to receive encouraging feedback from our advisors and consultants regarding the financial aspects of the project.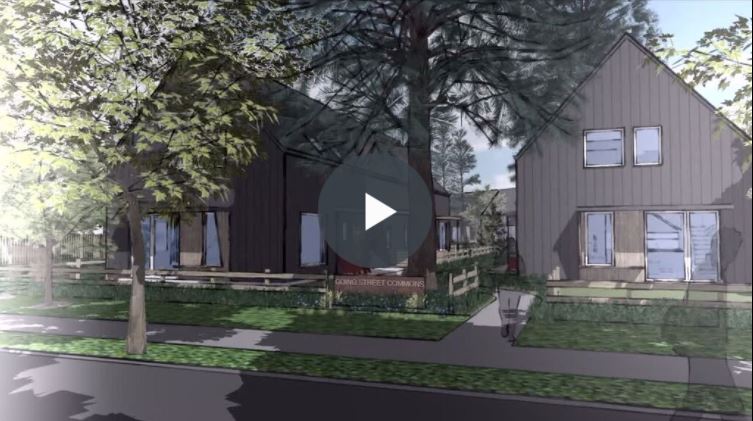 Recently we received a considerable investment from one of the future homeowners, which is a great show of support for our future community. We are still looking to round out investment for Phase 1 with an additional two hundred thousand dollars. We have now raised one million, five thousand dollars to date and are within striking distance of closing out this first round. Thanks to all that have shown support for Going Street Commons. If you know anyone looking for investment opportunities, please call us at (503) 753-9692, visit the
GSC website
and watch the video (above left) to learn more. We look forward to talking with you soon.
« Article Listings