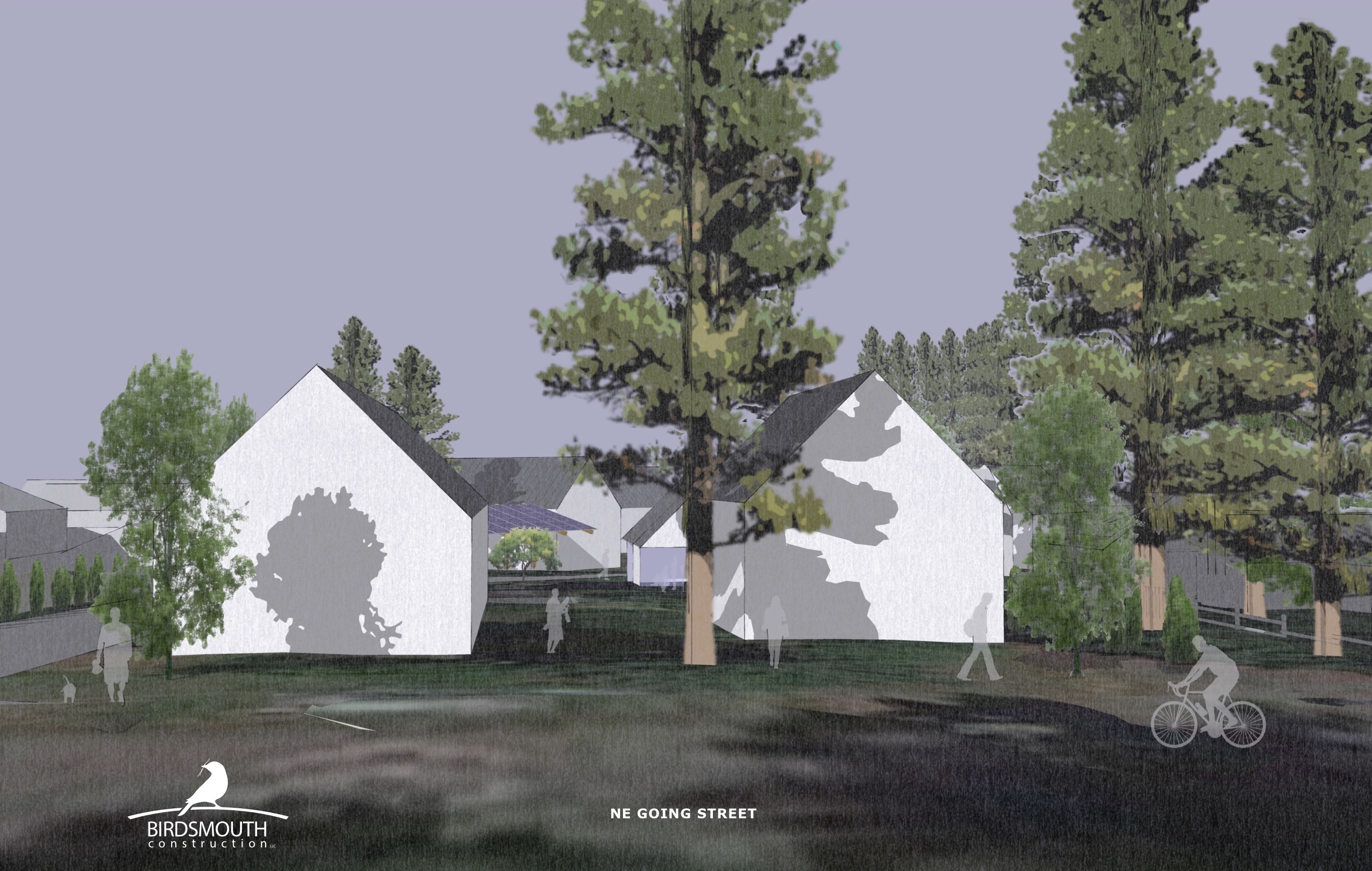 Going Street Commons: Spring 2017 Updates
May 16, 2017, by Jarad Miles
This past week our team met with the City of Portland's Bureau of Development Services for the important pre-application meeting to advance our Going Street Commons (GSC) project. Accompanied by AKS Engineers and Landscape Architect, Caitilin Pope Daum; we discussed our plans for developing the future Passive House community in Northeast Portland's Cully Neighborhood and to seek compliance with the city bureau's required policies. Below we discuss the good (and not-so-good) to come from our recent meeting.

Let's start with the not-so-good: Unfortunately, our original plan of 12 homes on the 1.3 acre site has been cut down to 11. Due to the City's current zoning requirements the ADU we were hoping for will not be permitted. Having one less unit to sell potentially makes it more challenging to recoup on development costs. Additionally, we found out that one of our proposed driveways (which included two parking spots) will not be permitted.
Now for the good news: We previously had three forms of architecture for our homes—one for the ADU, one for a smaller single family, and one for the larger single family homes (the duplexes are intended to be two of the larger plans attached on the short wall). Since the ADU is no more, we're now able to condense our plans down to just two separate forms—saving us costs on design and engineering.
Also, it's looking like we may not need to build a stormwater swale along the frontage road as previously planned. After locating a manhole on Going Street (along the south end of the site), it appears that we may be able to hook into the existing stormwater sewer system. Not having to design and build a swale and other related frontage improvements would be very good news as it could make up for much, if not all, of the lost revenue from the aforementioned ADU. We will know if we can take full advantage of this after our upcoming pre-concept meeting with the City of Portland's Public Works. We're crossing our fingers and hope to have a concrete answer in the next few weeks.
Other good news: By modifying our design we were able to move the bike structure and an additional storage unit—previously planned as a home attachment—to now be part of the community building (see pictured in below site map). This move will help us free up more green space around the home while further centralizing amenities for the entire community.
What to look for next: In the coming weeks, we'll be releasing floor plans for the single family homes and duplex homes. Along with the layout of these beautiful, high performance homes; you will get to see further details such as light coming in through the windows and views of surrounding green spaces and community gardens. After the floor plans are published we plan to host a second investor's meeting, likely near the end of June or early July.
The GSC project continues to roll forward on schedule. In fact, we recently sent the Cully Association of Neighbors our notice for the GSC's forthcoming plan development application. We look forward to working with the association and we invite you all to follow our progress as we design and build this diverse community of durable, comfortable, healthy and extremely energy efficient homes.
---
For those interested in potentially purchasing a home, please visit the Going Street Commons website or call (503) 753-9692. There you will find the most up-to-date information on the GSC development, including design renderings and site photos, project objectives and timelines as well as partnerships and team contact information.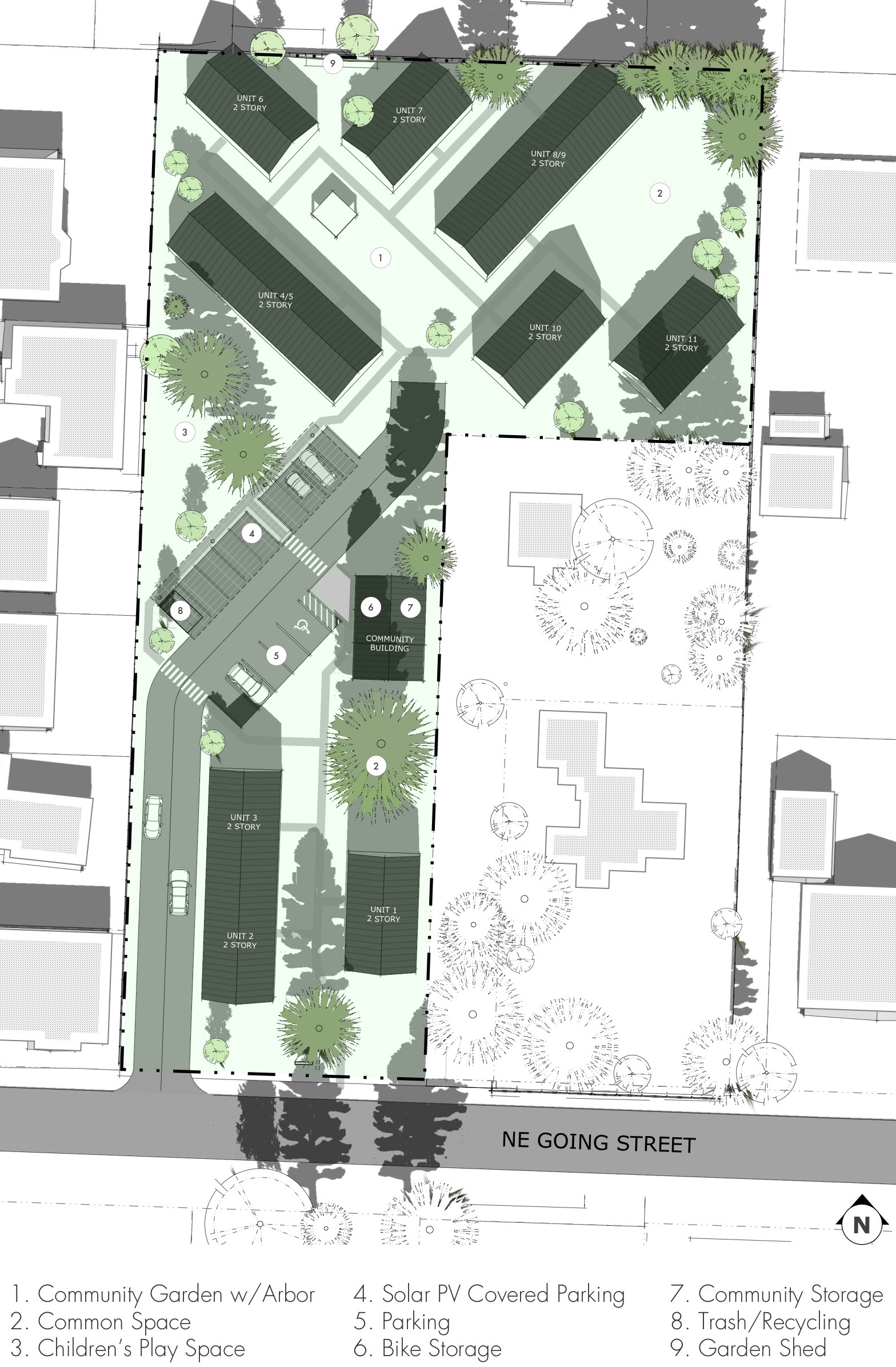 « Article Listings