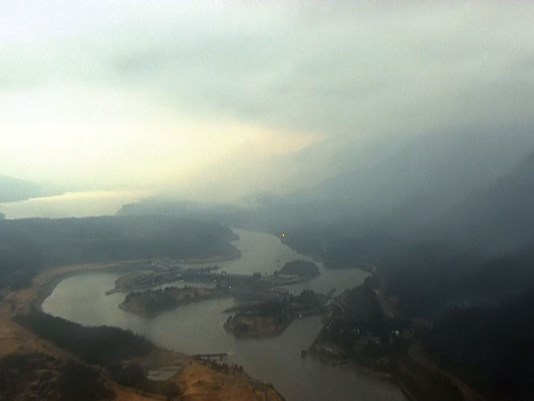 Is Your Passive House Keeping Out the Smoke?
September 09, 2017, by Jarad Miles
Smoke hangs like a dismal fog and ashes rain down on the city. This strange dystopia has become all-too-real for Portlanders over the past week. With lower temperatures and a chance of showers in the forecast, many of us wonder when the real rain will come to quench the merciless fire. As of September 7th, over 900 firefighters are working to contain the Eagle Creek Fire which has been designated the nation's top firefighting priority by the National Interagency Fire Center. Since the wildfire's tragic beginning last Saturday, at least three homes in the Columbia River Gorge have burned to the ground and 1,800 residents forced to evacuate their homes.
Though not in the fire's direct path, many are rightly concerned about air-quality. The Air Quality Index (AQI), calculated by the Environmental Protection Agency, identifies levels of ground-level ozone and airborne particles on a scale between 0 (good) to 500 (hazardous). Just two days ago, Portland's metro area approached AQI values of 300 (very unhealthy). Thankfully, as I write this, levels are down to 99 (moderate).
According to the EPA, we should reduce our prolonged or heavy activity (running, biking, yard work, etc.) outdoors when the AQI is at unhealthy levels, and spend more of our time indoors. For most homes the recommended approach is to simply close all your windows and turn on your air purifier or air conditioning unit.
But what if you live in a Passive House (PH)?
In the high-performance PH's we build at Birdsmouth, each uses a heat recovery ventilator (HRV) which also serves as the home's air filter. Rest assured, your HRV system will not suck in smoke and spread it throughout your home.
"The air filters on a Passive House HRV offer up to 14 microns of filtration (MERV 14)," says Birdsmouth Founder and CEO, Josh Salinger, "keeping out particles smaller than .3 microns, much smaller than smoke dust."
When it comes to designing and building a PH there are some fire resistance measures that can be taken. For instance, landscaping near the house should be kept to a minimum in favor of "defensible spaces" such as gravel beds and driveways. Additionally, the materials used for the home's insulation and exterior can be kept noncombustible by using materials such as mineral or rock wool, stucco, ceramic tiles, brick, metals (except aluminum, magnesium and magnesium alloys), as well as sheet glass, block glass, and uncoated glass fibers.
Installing high-performance triple-pane windows can also play a crucial role in preventing wind-blown debris—namely rocks and branches—from kicking up and breaking openings to your house. Once shattered, flaming materials and embers can easily blow in and set fire to the inside of the home.
In the end, there may be no home completely safe from the uncompromising force of fire. However, we would be wise to demand that homes are required to meet higher standards of quality and resiliency. This would not only protect our own family from unforeseen calamities, but provide safety and peace of mind to our larger communities. This is why we talk about 'creating better buildings that care about people'. Building better means a healthier, happier, more comfortable and more resilient world.
« Article Listings