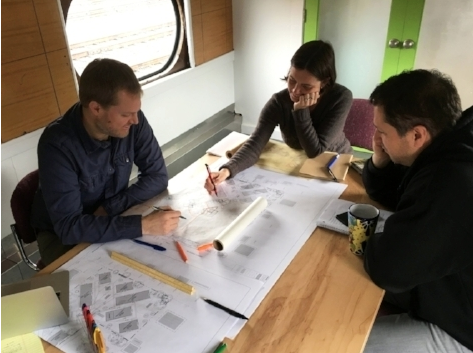 The Three Phases of Design
March 11, 2019
When you come to Birdsmouth to have your home designed and built, the first thing we'll do is have a meeting with you to discuss the home you want to build. In order give you the best possible service (and to give you something to think on before your first meeting with us), here are the three steps of our design process.

Dreaming

This is the most fun you'll ever have with a design team. In the Dreaming phase of design, you get to throw your ideas around and see which ones work and which don't. We go over the whole thing with you; lot size and buildable area, special restrictions (Historic neighborhood designation, oddly shaped lot, the tree Great Grandma planted when World War II ended) and anything else standing between you and the dream of your home. We go over how many rooms you want and where you want them. Where is the kitchen? Living room? Bedrooms and bathrooms? We go over it all, sketching ideas and coming up with the house that fits your needs (and more than a few of your wants). Once we have a good idea, we'll put together a cost study, to get an idea of what it will cost to build the home we designed together and determine what changes need to be made (if any) to meet your budget.

Drawing

Dreaming is all well and good, but if we want this house to be a reality, then we need something better than four or five sketches and a few pages of notes crammed into a notebook. During the drawing phase we focus on the specifics that never seem to make it into our dreams. What shape and size are the windows? How wide are the hallways and doors? How are the bathrooms arranged? What is covering the floors in each room? Closets? How many and where are they? All of these and a few hundred other details get hammered out during this process and the end result is a nice, clean floorplan that looks like the sketches and covers all the bases, but is actually to scale and contains all the precise additions that we didn't need when we were just doodling out your idea.

Drafting

This is simultaneously the most important and the dullest part of the entire process. The city requires plans to be drawn up a certain way and those plans have to conform to the city's codes and regulations. So the next set of drawings we make up are largely for the city and for our build team. To a layman it just looks like the plans you already had drawn up with three or four times the lines and a small dictionary's worth of words written too small for most people to read. Now, if architecture and CAD are your passions, this is a very interesting phase, as the design must be catered to meet the codes while still being the home we originally envisioned with you. During this phase we also get the structural engineering complete and apply for the permits that are needed to allow us to build the home. Permits can take a long time to go through, so it's important that we get these plans in as soon as possible so that when we are ready to build, we have the permits to get to work.
« Article Listings