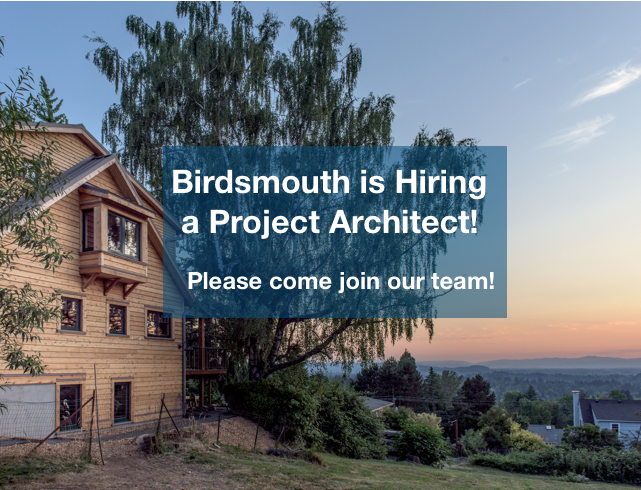 We Are Hiring!
October 22, 2019
Birdsmouth is seeking a full-time Project Architect to join our Design Team. We are a Design-Build company focused on residential high-performance design and construction, with a passion for creating beautiful, durable, healthy and energy efficient buildings.

We are looking to hire a highly organized, articulate, detail-oriented, Licensed Architect or Design Professional with a minimum eight years on-the-job experience. As Project Architect, you will be the Client's primary point of contact and will be involved in all aspects of a project from sales, crafting proposals, scheduling, all phases of architectural design, to managing the owner's goals and expectations throughout the process.

You will shape the success of the project from concept through development and will work in partnership with Birdsmouth's design team to deliver the construction documents within the Client's time and budget expectations.
Familiarity with MacOS, SketchUp/LayOut, Adobe Creative Suite, MS Office Suite software is preferred. We utilize SketchUp/Layout as our primary design and drafting software along with Smartsheet for project scheduling.
As a Project Architect, you must have highly developed communication and interpersonal skills. An interest and knowledge of high-performance design and construction is preferred.

Required Skills:
Licensed and Registered Architect in The State of Oregon with a minimum of 5yrs experience -or- a Design Professional with minimum eight years of on-the-job experience delivering all aspects of residential architectural design.
Proficient in BIM software such as SketchUp, Revit, etc. and/or design software such as AutoCAD, Vectorworks, etc.
Experience with residential construction detailing including strong technical and code skills.
Enthusiastic commitment to the iterative design/build process and working with a team
Interest in high performance and energy efficient construction
Ability to design and detail projects with minimal supervision
Preferred Skills:
Architectural license preferred
Understanding of Zero Energy homes and working knowledge of building science principles including air-tightness, insulation, glazing, and M.E.P requirements for custom residential buildings
PHIUS+ or PHI certification(s)
Experience with energy modeling software such as WUFI Passive, PHPP, REM/RATE
or similar
Knowledge of current construction practices and costs
Working knowledge of SketchUp and LayOut

As a Project Architect, you will:
Participate in Marketing and Sales of design projects
Create presentations and lead meetings with Clients, build team and consultants
Define project requirements and develop design criteria
Work with the Client(s) to ensure project goals are achieved
Design and detail projects
Coordinate projects with consultants
Work both independently and collaboratively with our Design Team
Coordinate documents/drawings for Permitting and Construction
Demonstrate leadership skills, ability to build relationships at all levels, internally and externally
Life at Birdsmouth:
We are an experienced team of architects, designers, managers, and builders. We strive for excellence in everything we do. That means being up to date on the latest innovations in building science, and creating long lasting relationships with our clients, co-workers, trade partners, and everyone along the supply chain. We're known for our commitment to quality, and for being leaders in the high-performance building movement — minimizing the sizable impact the built environment has on our changing climate.

Our comprehensive benefits package includes medical, dental, vision, paid holidays, paid time off, education stipend, mileage reimbursement, matching 401k, AFLAC and STD options.

Apply:
Please send a cover letter stating your current availability, along with your resume and samples of your work that is relevant for the position (no larger than 10MB) to info@birdsmouthpdx.com with the Subject line "Project Architect Position." Women and people who identify as people of color are highly encouraged to apply.
We will not review applications without work samples.
Birdsmouth is an equal opportunity employer, and all qualified applicants will receive consideration for employment without regard to race, color, religion, sex, sexual orientation, gender identity, national origin, disability status, protected veteran status, or any other characteristic protected by law.
« Article Listings